So I have been trying to be much more aware of the gifts God bestows each day. The little things I usually take for granted. It was on my mind as I rocked our newest little one in the wee hours of the morning. My eyes were heavy with sleep, but this little one was warm and wiggling in my arms. These moments will be gone all to soon. I wanted to hold her like that...stopping time to breathe her in and study each feature. The features that are already changing day by day.
And it was at this time that I thought about my list...the one scratched on the back of an envelope...the one typed out on this computer...the one written in my mind.
sun streaming through the window after days of rain
shiny bathtub...cleaned by my love...waiting for me in the morning
Little Bitty...singing beside me in the bed...hayayuyah(hallelujah)
Little Bitty...always asking..."Where's nayna mama?"...her name for her new sister...always answering "Ohhh"... when I show her.
Baby girl sleeping peacefully after an hour of restlessness in the middle of the night
I thought that during Bible Time today I would share with my little ones about my list.
Every good and perfect gift is from above, coming down from the Father of the heavenly lights, who does not change like shifting shadows. James 1:17

Rejoice always, pray continually, give thanks in all circumstances; for this is God's will for you in Christ Jesus. 1Thess 5:16-18

Just maybe...they would be inspired to begin noticing gifts that God gives each of them.
I thought about little notebooks and pens and how I would have to help them write...
And then the thought that makes my blood run cold...
I swallow hard...
Tears begin to fall...
Would I make it onto their lists...
...a mommy who plays tea party with me
...a mommy who gently instructs
...a mommy that smiles
...a mommy that plays games and laughs
...a mommy who encourages
In order to make it onto the lists, I'm going to have to be more available... to them...yes, I am here,
but being here and saying Yes to the things that would make their lists will take some extra effort.
It may mean the dishes have to wait...
the clothes may not be folded just yet..
the floors may be strewn with teacups and legos and train tracks...
But I will be giving myself to them...
and if they want, they can write it on their list.
His never-ending gifts...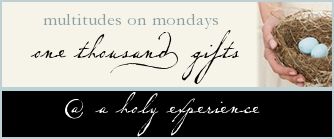 Do you want to start your own list?
Here's how
and
Here